I'm Joining the Par-tay!!
My first EVER link up What I Ate Wednesday with Peas and Crayons! Get excited :)
So, back in January I decided I wanted to start cooking healthy and better for you meals for husband and I. It wasn't an all out resolution (we all know how those things go - in and out and GONE by February!). But mainly keeping it as a mental note in the back of mind when I begin to prepare dinner for the night.
WIAW is definitely a great way to keep track of our your eating habits, good and bad. You can look back on a particular day and see what you put in your body as long as you documented it with pictures (or wrote down what you ate)!!
With that said, I give you What I Ate Wednesday!
Don't worry, I only managed to eat two.
Delicious home-made (by someone else) strawberry preserves!
Mmm Mmm Good!!
And that's the good stuff right there. None of that low fat crap ;)
pumpkin spice pancakes with chocolate chips
baked pasta layered with grilled chicken
nestle tollhouse cookies layered with bluebell home-made vanilla ice cream
May not all be 'healthy' for you, but downright delicious!!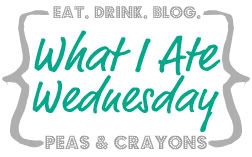 And, there you have it, my first WIAW link up!
I'm not a virgin anymore, so to speak.
Can't wait for next week's party!! Come join the party!